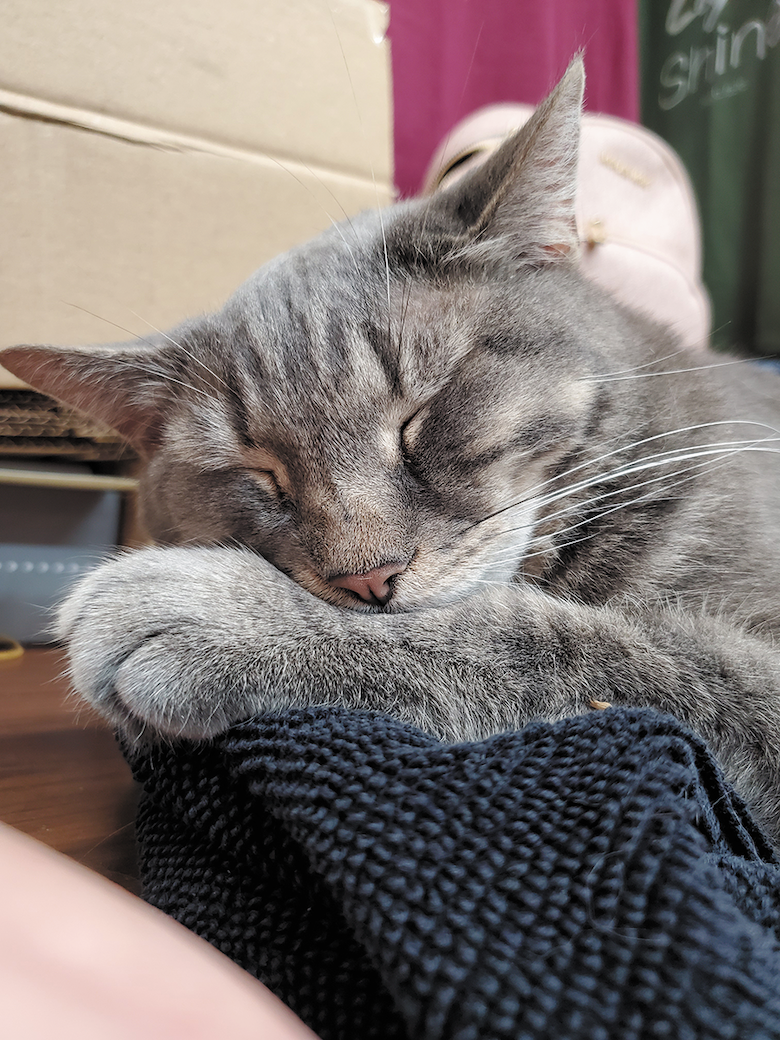 I walk into a cozy candle store in the capital region of Pennsylvania, ready to ask the staff to fetch the subject of my story — but there is no need. Wicks, a big, gray tabby, is already stretched out on the floor in the middle of Keystone Candle's busiest walkway at the store's center.
When not snoozing on the job, Wicks likes to mingle with customers browsing the shop's candles, wax melts and home decor. Photo: Keystone Candle
I shouldn't be too flattered, as if Wicks knew Catster was coming and laid out just for me. The gregarious cat — who came to live at the candle store and factory in July, right after the famous resident cat Pumpkin died — just adores being around people and digs the attention he gets from customers.
"This is what he does," says Kristen Cowles, Keystone Candle manager and daughter of founders Cathy and Jeff Brown. "If he's alone in a room, he will cry … until he finds another person."
Cat-loving customers who get the warm greeting may pick up Wicks and carry him around while they shop for numerous types of candles, wax melts and cute household decorations.
Photo: Keystone Candle
The Brown family who own Keystone Candle, which has operated in the Harrisburg area since 1977, adopted Wicks through a PetSmart rescue. The shelter estimated him to be about 8 years old. Originally, the family thought they would adopt a pair of kittens and give them the candle names Wicks and
Wax, but God had another animal in mind for the shop. Katie Brown, Kristen's sister, couldn't resist checking out this cat pleading for attention in a cage.
"As soon as my sister picked him up, he rubbed his face all over her," she says. "We fell in love with him."
Katie promised to come back for the cat, and she did. Wicks has settled into his home nicely, and he has an office with his supplies like cat beds and food. Visitors will often see him lounging in the aisles or jumping up on the counter by the cash register. Wicks loves exploring the many cute candle displays, but thankfully and surprisingly, he doesn't knock things over much.
Wicks succeeds Pumpkin, the beloved longtime resident cat at Keystone Candle from 2004 to 2020. Pumpkin died in July from kidney disease, and when customers heard about his prognosis, many came in to say goodbye. Before him was Bubba, a black-and-white stray the owners adopted.
Pumpkin was popular but more reserved, didn't like to be picked up and didn't like kids, Kristen says. Wicks, on the other paw, loves shoppers of all ages and loves being held.
Sometimes, customers almost forget that they came there to shop because they are so into Wicks. But that's OK, owner Cathy Brown says. Candles and cats are twin passions of theirs.
"We want to sell stuff," she says. "But they don't realize we love animals. We love him."
Keystone Candle is a paradise for lovers of sweet-smelling things, which the company ships to out-of-town customers.
They have many types of candles, including the standard jar, taper and pillar candles, along with wax melts and the whimsical food line. In this appetizing collection of goodies, Keystone Candle makes realistic-looking large and small pies, muffins and parfaits, along with cast-iron pans filled with playful scents like gingerbread man and jack-o-lantern.
I got a four-wick pecan pie, which looks and smells just like the real thing. I could order more online, but I will make another road trip; shopping won't be complete without Wicks.
Read Next: Tips for Finding Cat-Friendly Hotels