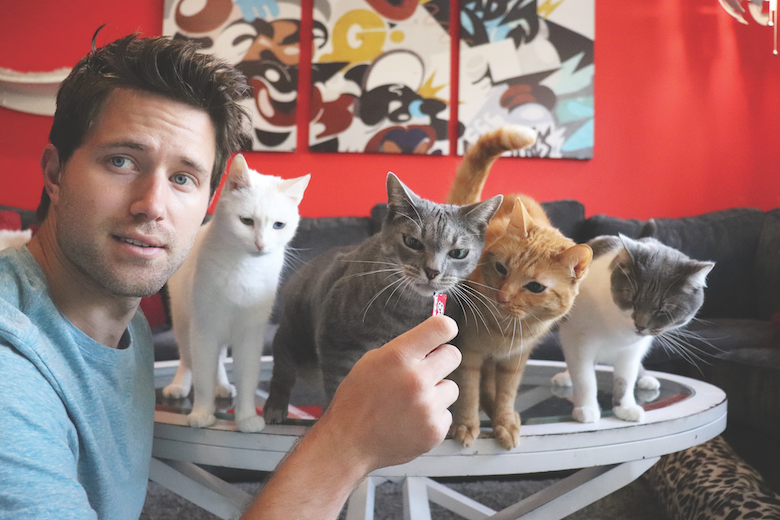 Has your dating life been a cat-astrophe? Well, there's an app for that! Tabby — The Cat Person's Dating App is an offshoot of Dig — The Dog Person's Dating app, launched in 2018 by sisters Leigh and Casey Isaacson. Tabby is a great way for cat lovers to connect. The app has partnered with two social media influencer cat dads, Nathan "The Cat Lady" Kehn and Sterling "TrapKing" Davis to spread the word.
Cat dads in particular love the idea. Recent studies have shown that men get fewer matches on general dating apps if there are cats in their dating profile photos.
"Cat is a lifestyle," says Nathan, who is a cat dad of four. "Cat people are just as unique as the cats they love, but we understand each other. Finding someone who loves cats the way that you do is vital."
Cat lovers and cat owners will be able to meet, plan cat-friendly dates, share videos, photos and stories, and score deals from pet companies.
"I want guys to know that showing compassion and rescuing cats is a great thing," says Sterling Davis, who runs a trap-neuter-return nonprofit in Atlanta. "If I can show other men that there are people out there who really appreciate what they're doing — maybe we can help them find love AND find more cats homes at the same time."
Tabby is available to download on iOS in the App Store and on Google Play. Get more details at tabbydates.com.
Featured Image: Dig Dates, Inc.
Read Next: Do Cats Get Lonely or Are They Fine Without Other Cats?
<![CDATA[ jQuery(function() { jQuery('#dmg-social-share').hover(function(e){ jQuery('#dmg-social-share-vert').show(); jQuery(this).remove(); }); jQuery(window).resize(function(e){ if(jQuery(window).width()
Source