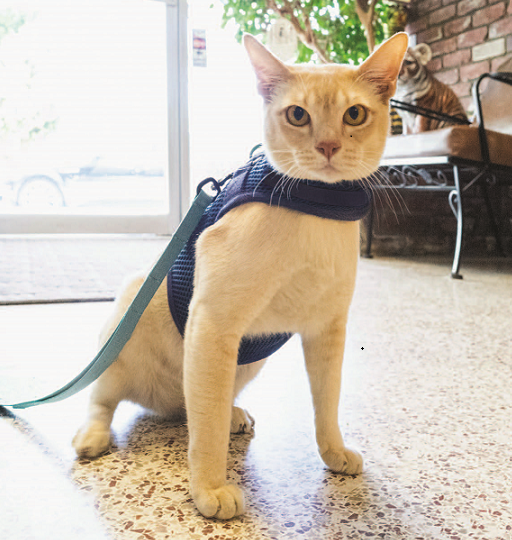 With cats, unlike dogs, it's not just a matter of putting on a collar and leash and giving treats. Habituating a cat to a harness and then to a harness-plus-leash takes time and needs to follow specific steps.
We'll start by warning you that this will look completely hopeless at first. Persevere!
Put the harness on your cat. I recommend using one made specifically for felines such as Sleepypod's Martingale Harness. Your cat will most likely collapse on the floor as if he can't move. This is normal. Sit with your cat (don't fuss over him) and take the harness off after a minute.

Repeat Step 1, leaving the harness on for short sessions starting at one minute and working upward to 10 minutes. When your cat wears the harness, reward with his favorite treats. We want this to be a positive experience.

Eventually, your cat will realize that he can move in a harness. Let him discover this on his own time. Believe me, it will happen.

Continue your harness practice at the same time every day, creating a routine for both of you. This is a great time to bring out his favorite toys so he can play wearing his new harness. Do not rush this step! Wait for your cat to get comfortable in the harness.

Let your cat explore indoors in the harness until the harness becomes normal for him. Encourage him to walk with you using your voice, treats and some of his favorite toys. Repeat this practice time for a few days.

When your cat is comfortable with the harness, attach a lightweight leash. Keep him in a small area with you so he's supervised. The cat might feel the leash and collapse like he did at first with the harness. He might walk around. He might chase the leash. Remove the leash after a few minutes.

Give your cat a few days to get used to the leash. Have him follow you in a small area and give him treats.

When he's comfortable in the harness and leash, pick up the leash so there's a little tension. He might collapse, he might react. Just stay quiet and drop the leash after a short time.

Start holding the leash while he follows you for treats. Start with slow, short walks indoors. Walking a cat is very different than walking a dog; cats kind of wander and go as they please. Don't worry, you'll get used to it.

When you have mastered the indoors, then you can try an enclosed outside area like a patio. Keep in mind that outside is a lot of stimulation for a house cat.
Now you're on the road to new cat adventures!
Nicole Ellis, CPDT-KA is a celebrity dog trainer based in Los Angeles. She has trained everything from bears to tigers to leopards as well as house-hold dogs and cats. Nicole has appeared on Amazon's The Pack, The Today Show, NBC, Fox, MSN, Mashable, Pet360, Travel+Leisure, Huffington Post and more.
<![CDATA[ jQuery(function() { jQuery('#dmg-social-share').hover(function(e){ jQuery('#dmg-social-share-vert').show(); jQuery(this).remove(); }); jQuery(window).resize(function(e){ if(jQuery(window).width()
Source