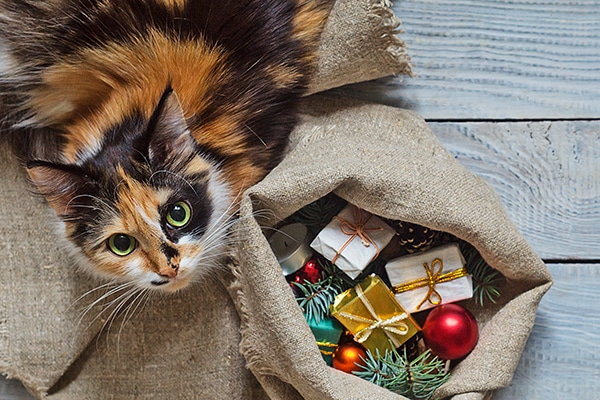 Looking for a way to celebrate our feline friends this month? Here are some fun December cat activities.
NOTE: Due to the coronavirus pandemic, many events have been cancelled. But here are some virtual events you can check out.
Meet adoptable pets through special videos during this year's Holiday Windows event. Photo Courtesy SFSPCA.
Through January 3, 2021: San Francisco SPCA's and Macy's Holiday Windows
In an abnormal year, at least there is something wonderfully normal for the 2020 holiday season, bringing feline and canine holiday joy to San Francisco during COVID-19. The San Francisco SPCA and Macy's Union Square are holding their 34th annual Holiday Windows, which will take place November 24 to January 3. Adhering to COVID-19 safety guidelines, holiday windows will not be filled with adoptable animals, but special videos of rescue animals and SF SPCA shelter alumni. Union Square shoppers can check out the outrageously adorable kitten, cat, puppy and dog videos in the windows at the corner of Stockton and O'Farrell Streets, as well as on Macy's Floor 1. This year's windows take the form of a thank-you letter to first responders, essential workers, marchers for equality and San Franciscans who showed their grit, good humor and hopeful spirit during a tumultuous year. Macy's will celebrate their undeniable spirit this holiday season as part of the window displays. Throughout the season, several of the SF SPCA's Animal Assisted Therapy pets are making surprise visits at Macy's. These specially trained therapy animals, accompanied by a volunteer and handler, will definitely help spread holiday cheer. For those looking to add a new furry family member this holiday season, adoptions by appointment will continue at the SF SPCA's Mission Campus Adoption Center. On floors 1 to 7 inside Macy's, shoppers can take selfies at four "Instagrammable moment" stations featuring giant cutouts of cats and dogs. Shoppers can learn about the animals' stories and share the holiday joy with their friends by using hashtag #SFSPCAholiday. There will also be a holiday selfie station at the SF SPCA's adoption center. Can't make it to Union Square? Enjoy cuteness from the comfort of your own home through the SF SPCA livestreams. View shelter animals on the SF SPCA holiday cams at sfspca.org/holiday. To learn more about Holiday Windows and donate to support the SF SPCA's lifesaving programs, visit sfspca.org/holiday.
Join Jackson Galaxy for the @Home for the Holidays virtual event. Photography courtesy Jackson Galaxy.
Dec. 5: @Home for the Holidays
After its successful virtual debut in September (more than 100,000 people tuned in to celebrate their love of cats!), Jackson Galaxy's Cat Camp is doing it again, this time to celebrate the most wonderful time of the year with cat lovers around the world. This celebration will focus on a life well-lived, with leading experts guiding viewers through every state of a cat's life. The event will feature fireside chats by a Yule log, fun and festive crafts, giveaways, a cat-themed ugly sweater contest and more. Speakers include Hannah Shaw (aka Kitten Lady) and Jackson Galaxy himself. The event will livestream at CatCamp.com at 1 p.m. EST. For more information and to register, visit catcamp.com.
Get some great cat training tips during Marin Humane's Zoom class. Photography by Getty Images.
Dec. 6: How to Train Your Cat
Some people think that cats can't be trained – but they can! This online Zoom class from Marin Humane will teach you how to communicate with your cat and provide mental stimulation using positive reinforcement techniques to train those unwanted behaviors away. This is a great way to bond – or enhance your bond – with your cat. The class costs $20 and goes from 10:30 a.m. to 12:30 p.m. PST. For more information and to register, click here.
Dec. 12: Dog and Cat Stocking Stuffers
If you need a feel-good but COVID-safe outing, you can help stuff stockings for the cats and dogs at the Nebraska Humane Society. From 10 a.m. to noon, the shelter will be collecting toys and treats. Just drive up and drop off a few items to help give the animals a happy holiday. You'll be greeted by shelter dogs, and the staff will deliver hot chocolate to your car window! Get more information here.
Dec. 21: Treetop Cat Rescue Event
The guys at Canopy Cat Rescue (Tom Otto and Shaun Sears) and the stars of Animal Planet's Treetop Cat Rescue TV Show, are hosting a special virtual event on Amava (a digital social platform for connecting retirement-age Americans)  to raise funds for their nonprofit cat rescue program. The one-hour discussion will cover major feline issues like: what "meow" means; how to help a cat in distress; when to call for assistance; and amazing cat stories. Learn more about Canopy Cat Rescue at canopycatrescue.com and on Instagram @canopycatrescue.
A cat with a wrapped holiday gift. Photography © Image Source | Alamy Stock Photo.
Dec. 25: Meowy Christmas!
Tis the season to give back to your cat. Of course, that should be every season according to your cat. Slip some new toys and treats in kitty's stocking this year to let her know how special she is. After all, she's the best gift you'll ever get!
 Featured photo: ©NataGolubnycha | Thinkstock
Read next: Tips for Reducing Your Cat's Holiday Stress