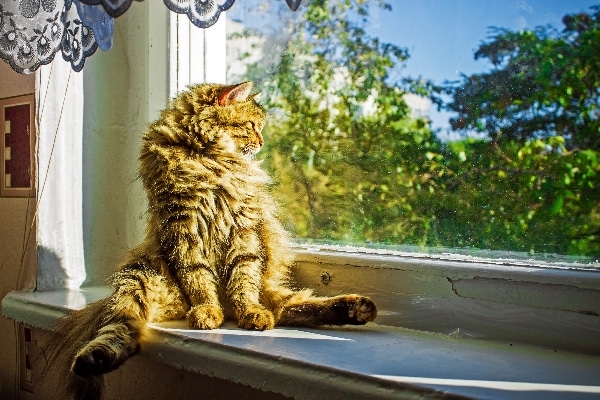 Looking for a way to celebrate our feline friends this month? Here are a few fun June cat activities.
NOTE: Due to the coronavirus pandemic, many events have been cancelled. But here are some virtual events you can check out.
 All month: Adopt a Shelter Cat Month
Give your cat some extra snuggles on Hug Your Cat Day. Photography by Getty Images.
4 Hug Your Cat Day
If your cat's not the hugging type, you might have to celebrate this feline holiday more in spirit. But it's a great day to give him some extra snuggles, playtime and love to remind him how much you love him.
A cat looking over a human's shoulder. Photography ©GreyCarnation | Getty Images.
June 6-12: Pet Appreciation Week
We know – you appreciate your pet on a daily basis! But the idea behind this special week is to connect with your pet on a more fun level and show them just how much you love and appreciate them.
Here are just a few ways you can show your appreciation this week:
*Give your cat some new healthy, yummy treats
*Make your cat a home-cooked meal
*Get your cat some new toys
*Give your cat some extra snuggles
*Volunteer at an animal shelter or donate much-needed supplies like food, blankets, cat litter and toys
Learn all about kittens at this virtual conference. Photography by Thomas Leirikh | Getty Images.
June 11-13: Online Kitten Conference
This can't-miss three-day weekend event is purrfect for any feline-loving person looking to build their knowledge and compassion for cats and kittens! And it's a virtual event, so you can take part from the comfort of your own home. Brought to you by The National Kitten Coalition and Community Cats Podcast, the conference will feature topics including raising and socializing kittens; setting up and managing kitten foster programs; dealing with litter box issues; and much more. You'll also get the opportunity to gain valuable insights and have your questions answered by some of the most knowledgeable leaders in the animal welfare community. Registration is $75 per person. To learn more and purchase tickets, click here.
Celebrate the one and only Garfield the Cat. Photography ©Created by Jim Davis | Alamy Stock Photos.
June 19: Garfield the Cat Day
Created by Jim Davis and first published in 1978, the Garfield comic strip stars a large, orange cat who loves lasagna and coffee but hates exercise, diets and Mondays. For more than 40 years, Garfield has clawed his way into our hearts and minds, getting his own way and his own day! So celebrate your love for this illustrated feline with posts using #GarfieldTheCatDay.
Foster kittens Lily, Marigold and Aster "helping" in the office. Photography by Annie Butler Shirreffs.
June 22: Take Your Cat to Work Day
Today, our cats can get their own day to head into the office. For those of us with feline office assistant experience, we know you can still get plenty of work done  with kitty lying on the keyboard, batting at pens and pushing the stapler off the desk. Cats who us how to have fun and be stress-free at work, making a better office environment for us all.
Featured photo: Yuriyve | iStock / Getty Images Plus
Read next: Can Indoor Cats Get Fleas or Worms?